Diamond Bar Concrete Services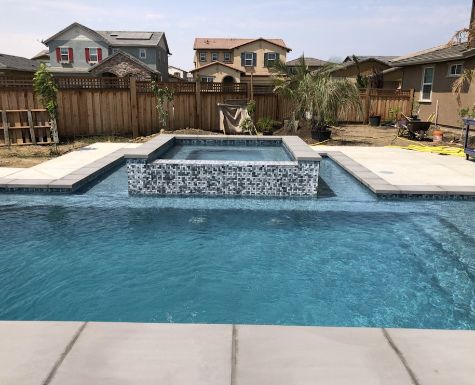 you own a property in the Diamond Bar area and are looking for a trustworthy concrete and masonry contractor to take up your work, feel free to contact us by dialing (909) 417-7922. We offer a wide array of hardscaping services, and before you ask, we are equally proficient at working with concrete, stones, and brick masonry.
Concrete Services
Pool Deck
A nice concrete pool deck can totally transform the overall visual appeal of your house. The deck needs to be very strong, and it also has to be slip-proof, so that walking on it doesn't become a problem. We would highly recommend you build a cool deck or Kool deck for your house, as it will provide you with superior quality, and also you won't ever have to worry about your deck heating up during hot summer months.
 Driveway
The first thing that an onlooker notices about your hardscape is your driveway. In most cases, concrete driveways are situated right in the front section of your house, and you would surely like to make a gripping first impression on your guests. Building a concrete driveway is an affordable way to tastefully decorate the exterior of your house. Concrete, as you already know, is extremely solid, and it provides a great amount of strength to your driveway. It can easily bear all the heavy pressure and wear and tear due to daily usage. Moreover, the designs and colors are so varied that you won't ever be able to say no to a concrete driveway.
Patio
From spending a relaxing weekend at the backyard to having over a bunch of friends for brunch, the patios is useful for multiple purposes. You need to build it up in such a way that it oozes your personal style. You may like simple designs, or you may be a fan of luxurious looks– depending on your preference, you can choose a particular style and design for your patio. The best choice of material is obviously concrete, as it is not only sturdy but also extremely versatile. With the use of decorative concrete, you can recreate the colors and patterns of authentic materials like tiles, flagstones, marble, rocks, brick, wood, etc. And guess what, it's pocket-friendly too.
Apart from the above-mentioned ones, our services include concrete pouring, concrete overlaying, concrete resurfacing, concrete pumping, building walls and retaining walls, sidewalks, countertops for both indoor as well as outdoor kitchens, building floors, concrete slabs, and so on. People often complain about cement's unflattering color, but decorative concrete can effectively sort out that matter. You can create any finish, color, or design of your choice, without having to spend a fortune.
Contact us at (909) 417-7922 for free estimates.
 Masonry Contractor
Just because we offer so much in concrete works, don't think that we don't deliver masonry services. In fact, it is one of our specialties. We take pride in our dexterity over brick and stone masonry, as they are pretty difficult jobs. Stones are natural materials, and they need to be dealt with a lot of care; otherwise, the entire structure can get ruined. Bricks, on the other hand, provide a nice rustic look, but not everyone can deal with them well. At Diamond Concrete Pro, we are experts at bricklaying, building brick and stone walls, patios, driveways, sidewalks, installing brick pavers, stone pavers, building fireplaces, and many such services.
 Why Should You Hire A Professional Concrete Contractor in Diamond Bar, California?
Concrete is a very hardy material that suits best for all of your construction needs. It is the preferred choice for contractors and house-owners alike, owing to its sturdiness and resilience. But working with concrete is not a child's play. You should hire only top professionals for this job, as even a single wrong move can completely ruin the project. At Diamond Concrete Co., we possess a considerable amount of experience in this industry, and we are aptly skilled and trained at building long-lasting concrete structures. So stop wasting time!
To make it easier for you, here is a list of the concrete and masonry services we offer:

Pick up your phone and reach out to us on this number: (909) 417-7922. If you are more comfortable with texting than talking, we totally understand! Fill out this form below, and we will get back to you shortly.
Areas We Cover for Concrete and Masonry Services Near Diamond Bar, CA