Diamond Bar Flagstone Patio
The Most Trusted Flagstone Patio Contractor in Diamond Bar, California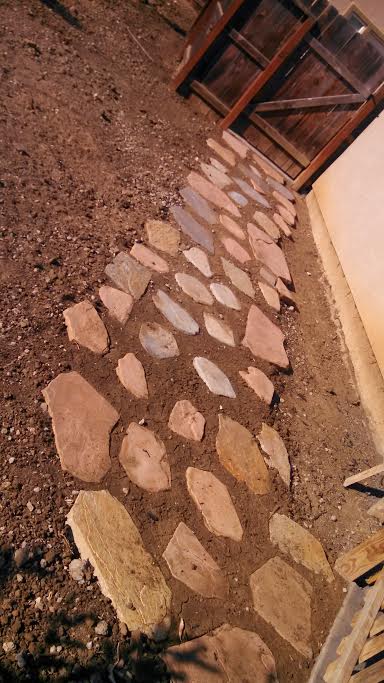 Are you looking to add a patio to your home? Do you have an existing patio and want it upgraded or repaired? Diamond Concrete Co., designs, installs, and repairs flagstone patio in Diamond Bar for homes and even commercial spaces. Our flagstone patio design and installation service are second to none. We can modify, alter, and repair existing patios and turn it like new.
We can create a stunningly beautiful flagstone patio and turn it into your private outdoor escape. Dial (909) 417 – 7922 and let us start discussing how we at Diamond Concrete Co., can make your dream flagstone patio into a reality. 
Using poured concrete on your patio is perfectly fine, but a traditional flagstone patio provides more visual appeal to your property. In older homes, the textured look of the flagstone patio will perfectly match the architectural and materials of your home. It will complement better as compared to concrete. Moreover, a flagstone patio will look better with your landscape. And at Diamond Concrete Co., we know exactly what will be the best foundation for your great outdoor haven. What will serve as the ideal backdrop for your landscape, and what will complement your property? For flagstone patio ideas and other concrete projects, fill out our contact form, and we will get back to you as soon as possible. You may drop by at our office for a more thorough discussion.
Our team at Diamond Concrete Co. specializes not only in flagstone patios but in other concrete projects as well. This includes concrete driveways, walkways, pool decks, retaining walls, resurfacing, concrete refinishing, stamped concrete, and more. But when we talk about the flagstone patio, our staff is equipped with the latest technology and millions of ideas and designs which we can share with you. 
To give you an idea of what we can do to your property using flagstone as your primary material, here are some types of this material that we can use.
Our staff at Diamond Concrete Co. uses different types of flagstone, which are various sedimentary and metamorphic rocks. Anyway, you do not have to know the etymology of the word, all you have to do is contact us, and we will discuss this further with you. Now, going back to the types of flagstone.
The widely used stone for patios is slate. This rock is frequently used mainly because it is easier to chip and shape. Moreover, it is also very available and comes in gray, green, copper, and silver hues. The price is also very affordable, making it the top choice for a beautiful flagstone patio at a very affordable price.
Another type of rock that is very common is limestone. This rock is made of calcite and comes in earthy colors. It can withstand our climate and is longer lasting.
For those living in harsh winters, bluestone is a perfect choice. This bluish-gray sandstone can hold up well in cold weather but requires sealing to maintain its color and as protection from scratches and stains.  
Sandstone. This porous material requires much care as it can split or crack from freeze and thaw cycles. This is made up of layers of sand and comes in beige, red, and gold color.
Basalt. This type of flagstone has a great look but requires a lot of care as it dulls over time. This volcanic rock usually comes in gray, beige, and black.
There are more flagstone types that we use and can use for your home or office, depending on your budget and location.
Dial (909) 417 – 7922 right now, and we can immediately discuss the cost and timeframe of your project. We can also provide ideas for your pool deck, driveways, walkways, retaining walls, and more.
If you believe those TV programs with home hacks and making flagstone patio installation easy and thought of doing the project yourself, think again. As a seasoned flagstone patio contractor, we at Diamond Concrete Co. have experience fixing lots of patios and other projects. We have been hired to repair poorly installed patios thanks to shows and even to those bogus contractors who are only after your money. Remember that we have been in this business for years and know the ins and outs of this business. From preparation to lying down on the gravel base, from laying the weed blocking landscape fabric down,  up to the finishing touches, Diamond Concrete Co. will surely provide you with the service that you deserve.